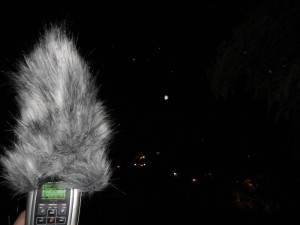 Happy new year, everyone! I wish you all the best and hope that 2012 will be a peaceful and good year.
I was planning on setting up my recorder and capture some of the fireworks. Unfortunately, the weather is looking pretty bad today, so I don't think I'll be able to record anything. Still a couple of hours left of 2011 here in Norway. I'll just have to wait and hope the weather gets better.
Instead of this year's fireworks, I am posting a recording of the fireworks from 2010. New Year's Eve 2010 was the first time I remembered to bring a recorder to where I spent the evening.. I set up my Zoom H2 at about 11:40 and let it roll for 40 minutes or so. It was a little bit windy, but the Rode deadcat I pulled over the foam windscreen worked pretty well. New Year's Eve is the only time it's legal to use fireworks in Norway without special permission, so I'm glad I was able to get a good 20 minutes of ambience.
Equipment: Zoom H2 with Rode dead cat. Location: Finnsnes, Norway