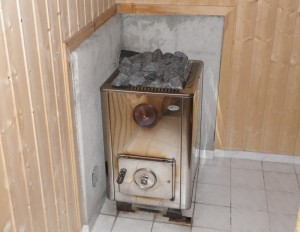 My wife is of Finnish descent. She had, of course, made sure that we had access to a sauna during our Christmas holiday. I grabbed the chance to record some sound effects there.
This particular sauna is a bit noisy because of draft from the chimney, but I decided to give it a go and capture the sounds I could. I recorded ambience close to the stove first. Afterwards I started splashing water at the rocks on top of the stove. The recorder had to be positioned very close to the rocks to avoid the noise from the chimney. It quickly got pretty hot, both for me and my Zoom H2. I recorded for as long as I thought my recorder could take it. My H2 is getting old now and I often use it as an expendable recorder, but I didn't want to destroy it for this. I got out of the sauna when the Zoom started getting dangerously hot.
The water splashes turned out pretty nice. I did have to roll off a bit of low end to get rid of the worst rumble noise from the chimney. I also had to fade out the sounds at the end when the signal/ambient noise ratio got too bad.
Equipment used: Zoom H2