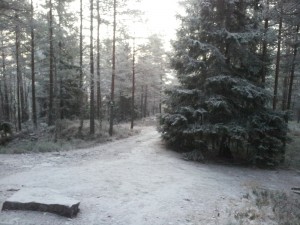 Have you ever done foley on location? I'm not talking about recording sound effects on location/field recording, but actually recording foley to picture on location. I feel that location foley can add something special to a project. I don't do it for every project, but I like to do it from time to time.
I wrote about my very first location foley session in an old blog post. On that project we brought a laptop, an Mbox2 and a microphone and recorded straight to Pro Tools. The location was indoors and easily accessible, so recording to a laptop was easy. We had a power outlet nearby and we even had a table to set up the gear on. Not all locations are like this.
Currently I'm working on a short film with a lot of mountain hiking scenes. We decided to do some location foley for these scenes. I was not going to carry my laptop and audio interface for miles and miles and set it up in the forest, so I went for a lighter setup.
My weapons of choice are the Sound Devices 744T recorder with a Sennheiser MKH-60 to match the production sound.
On a project I worked on years back, we used an ipod touch to view the video while recording. This is a simple solution that works, to a certain degree, but you'll spend a lot of time when you get back in the studio. Syncing the recorded sounds was a pain. I wanted to make this easier for myself this time.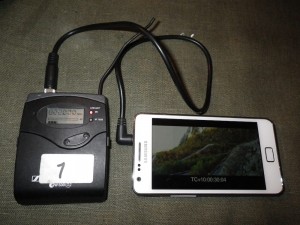 My solution was to send the production sound from the video to a second track on my recorder. This way I had a guide for syncing when I got back to the studio. I used a wireless transmitter, but a wired connection will also work, of course. For this session I needed the freedom to move around while the recorder remained stationary, so wireless was my only option. Every time I hit record, I slated my actions as well as the time code shown on the screen. When I drop the recorded file into my session later, I can see where the production sound starts and place this at the slated time code location.
Below you see the waveform from one of the recorded files. Track one starts with my vocal slate. A few seconds later you can see the waveform of the production sound on track two.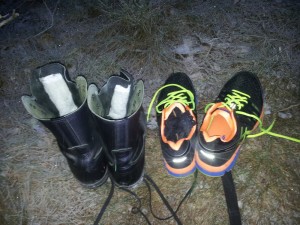 I hope this will help some of you and save you a little time syncing your recordings. Check out Walter Murch's metronome trick from The Godfather 2. It's awesome.