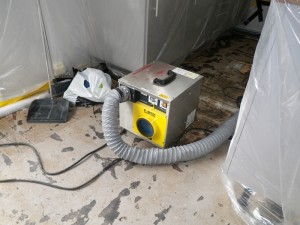 So, I haven't had too much time for recording and updating the blog lately. Finally, It looks like I'm starting to get things under control again and the urge to record is returning.
If you've ever had a water leak in your house, you've probably heard a room dryer in action. Unfortunately, now it was my turn.. The room dryer is blowing hot air into the kitchen to dry out the wet floor. It makes quite a bit of noise and it can be heard throughout the apartment. I set up my Zoom H2 a couple of places to record the dryer from different perspectives. It turned out pretty well and I'm sure this can be used for some kind of industrial ambience later on.
Note: The whole kitchen is wrapped in plastic which you can hear moving in the breeze in some of the recordings.
Equpiment used: Zoom H2